For a printable copy of this press release, please click here.
Delran, NJ. – October 8, 2014 – Homes of Living Hope, a non-profit that provides the framework for converting used shipping containers into functioning facilities, has partnered with the students of Delran, NJ-based Delran High School (DHS) to retrofit an 8'x9'x40' shipping container into a standalone library for Hope Lives Elementary School, an under resourced school in rural northern Africa.
In 2013, the Hope Lives Executive Director, Francis Nyang, spoke to DHS students about the great need for infrastructure in northern Uganda, an area severely impacted by decades of civil war. Following the talk, DHS students and faculty decided to convert a shipping container into a library and educational resource center for Hope Lives Elementary School in Aloi, Uganda. They named the project, "DHS: See the Difference One Container Can Make."
About 100 Delran high and middle school students are involved in the design and build of the library, including students from the Do It Yourself (DYI), Advanced Art, Engineering, Industrial Arts and Art classes.
"This is a fantastic opportunity for Delran High School students," said Brian Stolarick, Assistant Principal of DHS. "This is a real-world project for them. They are applying what they learned in the classroom in a way that serves others. That's what our edu-service projects are all about."
The shipping container, donated by Riverton, NJ-based SeaBox, is nearing the final stages of interior construction by the high school students. Mural designs will cover the exterior. To engage students throughout the district, a design competition was held among the Art students. During Homecoming Week Oct.13th to 18th, all 857 DHS students will paint their hands apply their handprints to the exterior of the container to create a large mural.
The Delran community can also be involved in this project. "We are inviting the entire community to join us as we fill the container with much needed supplies," said Erica DeMichele, Delran K-12 Supervisor. The container needs to be loaded with books; "Buckets of Love", five gallon buckets filled with school supplies; bikes and helmets; and prescription eye glasses. More details on donations can be found at http://homesoflivinghope.org/delran-high-school-volunteer-opportunity. Donated supplies will be collected on Homecoming Parade Day, October 18th , at DHS's main parking lot from 8am to 9:30am and from noon to 1:30 pm (but will be accepted through Thanksgiving). "Ultimately, this edu-service project will connect hundreds of people in our community through construction, design and donation collection efforts," DeMichele added.
The project has several business sponsors: SeaBox donated the empty shipping container, Home Depot (Delran and Mount Laurel locations) donated construction supplies and Dubell Lumber donated the windows.
The construction portion of this project will be completed before Thanksgiving. The completed container is expected to be transported to Uganda before year end.
"Our goal is to strengthen communities by building relationships through the teamwork required to support a worthy cause," said Bart Wear, Homes of Living Hope Director. "We're extremely proud of the way Delran High School has embraced this edu-service project to create connections across the high school, district and surrounding community."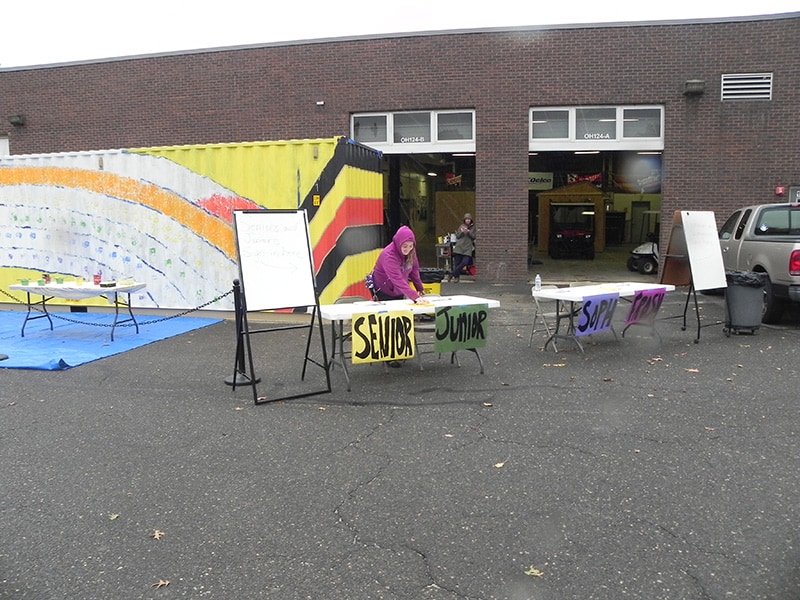 About Delran Public Schools
The Delran Township school district is a Pre-K through grade 12 public school program located in western Burlington County.  The district serves approximately 3,000 students in four different schools.  Since one of the graduation requirements is community service, the district has embraced the container project as a way for its students to provide assistance and gain an appreciation for the need to help others less fortunate.  Further information about the district can be obtained by accessing the website at www.delranschools.org.
About Homes of Living Hope
Founded in 2006, Homes of Living Hope is a 501(c)(3) non-profit that provides the framework for converting used shipping containers into functioning facilities to be used internationally as clinics, schools and housing for under-resourced communities. The organization partners with volunteer groups throughout the U.S. who locally retrofit used shipping containers before transporting completed facilities to partnering aid groups in communities around the globe.
The mission of Homes of Living Hope is to connect communities through service. Their projects enable large numbers of volunteers to help as little, or as much, as they are able. Each converted container can connect up to 1,000 people throughout a community, offering volunteer opportunities in the areas of construction, logistics, power/energy generation, administration, international relations, fundraising and solicitation of supplies. Homes of Living Hope strives to strengthen communities by building relationships through the teamwork necessary to support a worthy cause. For more information, visit www.homesoflivinghope.org.
For more info, please contact either:
Erica DeMichele
K-12 Supervisor of Science, Engineering, F&CS and Ind. Arts
Delran Public Schools
Phone: 856-461-6100
Bart Wear
Director, Homes of Living Hope
Phone: 303-898-2400